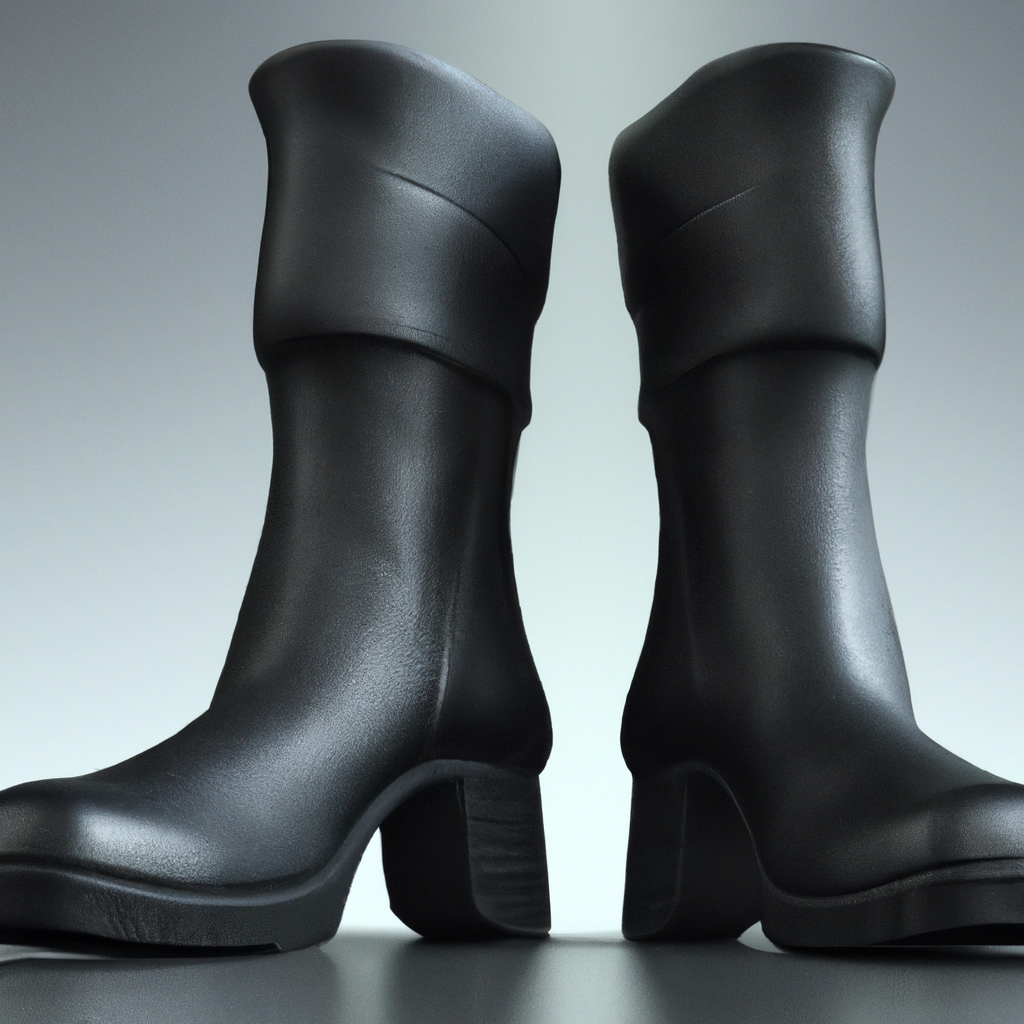 Measuring Your Foot
A good fit is key when it comes to red wing boots. To ensure the best possible fit, it's important to measure your foot accurately. The most reliable way to do this is to use a Brannock device. This device, which you'll find in many shoe stores, will help you to get precise measurements of your foot.
Let's look into the details of measuring your foot:
Measure the length of your foot
To determine the correct size for your Red Wing boots, you will need to measure your foot from heel to toe. The best way to do this is by removing your socks and standing with your foot firmly planted on a hard, flat surface. Place a ruler beside your foot and measure from the back of the heel to the tip of the longest toe. Make sure that you exclude any overhangs so that you get an accurate reading of your foot length.
Record both feet measurements in inches or centimeters and use either one when selecting a Red Wing boot size – whichever measurement is greater. Take special care when measuring wide widths as they may require additional sizing information.
Measure the width of your foot
Measuring the width of your foot will ensure that you get a comfortable fit in your Red Wing boots. A proper fitting boot should provide a snug fit without being restrictive or overly tight. Here are some guidelines for closing the boot once it is on your foot:
Lightly close the laces after you have stepped into the boots, making sure not to tighten them too much.
Walk around and check the feel of the boot, keeping an eye on points where you may need more or less space.
Carefully adjust your laces as needed until they feel just right when you walk and stand in them.
Check to see that each part of your foot is comfortably supported when measured against the sides and toe cap of the Red Wing boots.
Look down and make sure that there is room for one finger between your toes and the end of each boot.
Make sure that all buckles are securely fastened, but not tightened to where they pinch or restrict movement at all.
Measure the arch of your foot
When measuring the arch of your foot, you should use a soft cloth measuring tape, a pencil and paper. Place the tape measure at the back of your heel and wrap it up to the arch of your foot, over the curled area on top. This is to get the length in centimeters from your heel to where the tape ends.
To get accurate measurements, make sure that you are making contact with only one side of your foot; avoid pressing into any folds or creases along its curves. Record this measurement so that you can reference it when purchasing boots. If possible, have someone else measure for you so that your foot is more relaxed and flat when taking measurements.
Once you have all of these dimensions recorded accurately, it's time to select a boot size with correct sizing guidelines:
Sizing Chart
Choosing the right size for your Red Wing boots can be tricky, so it's important to make sure you get it right. Fortunately, we have created a sizing chart which can help you find the perfect fit for your Red Wings boots.
This guide will explain how to measure your feet and how to use the sizing chart to make sure you are getting the best fit for your boots:
Measure the length of your foot.
Measure the width of your foot.
Refer to the sizing chart to find the corresponding size for your foot measurements.
Compare your measurements to the sizing chart
Comparing your measurements to the correct Red Wing boot sizing chart is an important factor in helping you to find the right size fit. To ensure the most accurate size when ordering online, please measure both feet and use larger measurement when ordering your boots. Red Wing shoes are made in US sizes, but sizes vary slightly at different widths and sizes than those found on normal shoe charts; order boots one half size down from your normal size for best fit. If you need additional help sizing your boots, please contact our Customer Service Team at 1-888-973-3966 and they will be able to provide more details.
For a proper fitting boot we recommend that you measure your foot while standing up with socks of a similar thickness that you plan on wearing with your shoes or boots. Use a ruler or measuring tape, starting from the heel and measure to the end of your longest toe for both feet separately:
Foot Length – Take measurements in centimeters or inches from heel to the tip of your longest toe for both feet
Width – Measure around you foot at its widest point
Ball Girth – Measure circumference around widest part of forefoot across joint area
Ankle Circumference – Measure ankle circumference around ankle joint area
Heel Height – Measure length from surface under heel to back edge of footwear
These measurements should then be compared directly with US sizing on our sizing chart below:
| Size | Foot Length (cm) | Width (cm) | Ball Girth (cm) | Ankle Circumference (cm) | Heel Height (mm) |
| --- | --- | --- | --- | --- | --- |
| 6 | 22 cm | 8 cm | 18 cm | 20 cm | 10 mm |
| 7 | 23 cm | 8.5 cm | 19 cm | 21 cm | 10 mm |
| 8 | 24 cm | 9 cm | 20 cm | 22 cm | 11 mm |
Once perusing through these measurements, if there is any doubt as to what size best suits you it is always best practice to choose one size up rather than potentially ordering an undersized shoe due to any misconceptions regarding fitment advice online or over chat/phone as these can only ever be a general guide rather than specific tailored advice which would require instant viewing/fitting of the footwear concerned provided by a physical store environment itself which has taken into consideration all questions answered by the customer visibly evaluating how their own foot narrows into their toes etc where shoes are fitted uniquely each time dependent upon personal firsthand assessment compared to the traditional roster of suggested guidance available online before purchasing!
Determine your size based on the chart
Choosing the right size Red Wing boot is essential for your optimum comfort and performance. Each Red Wing style is classified with a width size, ranging from A (narrow) to EEE (triple extra wide).
Here are our easy-to-follow steps on how to find the correct fit:
Measure your current shoe size: First, measure your foot length in inches and keep that handy – this may be different from the size stamped inside of your existing shoes or boots. An accurate measurement can help you find the best fit for Red Wing Boots.
Look up your size: Refer to the chart below which corresponds to each Red Wing Shoe Style and Width by measuring both men's and women's feet in inches and corresponding Red Wing sizes based on widths of A, B, C/D, E/EE,or EEE. For example, if you have an 11 3/4 inch foot with a medium width (D or E), then you will wear a 12 D (men's) or 10 EE (women's).


| Men's Sizing Chart | Women's Sizing Chart |
| --- | --- |
| Length | Length | Length |Length | Length | Length | Length |Length |
| A | B | C/D |E/EE | A | B | C/D |E/EE |
| 5 1/2 8 1/2 5 1/2 8 1/2 | 5 1/2 8 1/2 5 1/2 8 1/2 |
| 6 9 6 9 | 6 9 6 9 |
| 6 ½ 9 ½ 6 ½ 9 ½ | 6 ½ 9 ½ 6 ½ 9 ½ |
| 7 10 7 10 | 7 10 7 10 |
| 7 ½ 10 ½ 7 ½ 10 ½ | 7 ½ 10 ½ 7 ½ 10 ½ |
| 8 11 8 11 | 8 11 8 11 |
| 8 ½ 11 ½ 8 ½ 11½ | 8 ½ 11 ½ 8 ½ 11½ |
| 9 12 9 12 | 9 12 9 12 |
| 9½ 13 9½ 12½ | 9½ 13 9½ 12½ |

Note: Narrow width shoes feature a regular toe box while extra wide width boots have an almond-shaped toe box that gives you more room at the toe area without increasing the length or width of the foot bed overall – so make sure to choose a style with extra room at toe if necessary!

Wear them in: All Red Wing boots come with limited break-in period so be sure to give them time wearing around inside before venturing out into winter weather conditions!
Try On Your Boots
To ensure a proper fit when buying Red Wing boots, it is important to know your size and try them on. Red Wing uses the width of your foot and the length of your foot to determine the size you need. To ensure a good fit, always try on the boots before purchasing them.
This article will provide a step by step guide on how to size your Red Wing boots:
Wear the boots and walk around in them
Once you've found a pair of boots that you think is the correct size, it's time to wear them and walk around to really get a feel for them. If possible, wear the boots while standing and walking on a carpeted surface that resembles your typical working environment. This will help ensure that the boots fit as they should in real-world conditions.
When trying on your new Red Wing boots, make sure to:
Wear socks similar to what you would normally wear at work
Walk around in the boots so you can get used to how they feel on your feet
Check the back of your feet and lower ankle area for any rubbing or discomfort
Ensure the laces are tight enough to provide proper arch support
Check if there is any heel slip – try different lacing techniques and different thickest socks
Pay attention to how secure the foot feels inside of the boot

Do not purchase boots that are too big as loose fitting boots are more likely give way leading to potential injury or fatigue

If unsure about which size, consider going for the smaller size as all Red Wing footwear come with steel, plastic or fabric "stiffeners" which add support allowing some room for comfort
Make sure the boots fit comfortably
Red Wing boots are designed to provide maximum support, so it's essential that you make sure they fit comfortably. To do this, follow the steps below:
Put on the socks you'll normally wear with the boots and lace them up until you have a secure fit with no crushed toes or heels.
Place your finger inside the collar of each boot and pull up (to make sure there's enough room).
Make sure your toes don't come in contact with the toe box of the boots. The toe box should be at least 1/4 inch away from your toes for ideal comfort and support.
Crouch down against an imaginary wall, as if to tie your shoes or stand on a long paddleboard. This will give you a good range of motion from heel to toe and let you know if your foot is properly supported in all directions.
Walk around for 2-3 minutes to get a sense of how comfortable the boots are on uneven terrain or unusual angles. Try walking up and down stairs – this will give you an especially good feel for how supportive the boot is in various positions.
When strapping up your boots, adjust them to ensure that both feet are equally supported and comfortable in each shoe – this will improve foot alignment throughout all types of movement.
Finally, trust your feet! If they don't feel comfortable—even after making adjustments—it may be time to look into a different boot style or size altogether!
Adjustments
Red Wing boots offer versatility when it comes to sizing. If you are having difficulties finding the right size, there are some adjustments you can make to get just the right fit. This article will provide information on how to size Red Wing boots and the adjustments you can make for a better fit.
Use an insole or insert to adjust the fit
If you can't find the perfect size for your foot, try an insole or insert to adjust the fit of your Red Wing boots. This can range from arch supports for extra stability to custom insoles for enhanced comfort and cushioning.
These insoles are placed inside the boot and provide flexibility to those with feet of different lengths, widths or shapes. On top of this, insoles help support your foot and absorb shock so you have a comfortable and secure fit without having to settle on one size only. Ultimately, they are designed to make sure you get the best possible fit out of your Red Wing boots.
Use a thicker sock to adjust the fit
If you find your Red Wing boots or shoes feel too roomy, a thick sock can be used as a great way to adjust the fit. Increasing the amount of material between your foot and the interior of the footwear makes a big difference in comfort and fit. You may need to use a combination of thicker socks with additional insoles, adjusting either or both until you reach your desired level of comfort.
Make sure that the style and size you choose allows enough depth for these additional layers. It's also recommended to use a shoehorn when putting on tight-fitting boots, this will reduce stress on the back of the heel.
Care and Maintenance
Once you purchase a pair of Red Wing boots, taking care of them properly is of utmost importance. The right care keeps your boots looking great, fitting your feet as intended, and lasting for years to come. The first step in caring for your new boots is to get the correct size.
This section will discuss how to size Red Wing boots for the best fit:
Clean and condition the leather regularly
Keeping your Red Wing Boots in good condition requires regular cleaning and conditioning. First, inspect your boots to make sure they are free of dirt, mud and debris. If necessary, use a damp cloth and brush to remove any caked-on dirt. Clean the insides of your boots as well; you can use a soft cloth dampened with lukewarm water to remove any residual dirt.
To maintain the look of the leather, use a premium leather conditioner regularly. The conditioner will help prevent damage from exposure to the elements, such as freezing temperatures or high humid weather. You can apply it using a wide sponge and rinse lightly with water – no soap is necessary. Let them dry naturally away from heat before wearing them again. Make sure that you only use products that are specifically designed for Red Wing Boots; other products may cause damage or discoloration of the materials used in their construction.
Use a shoe tree to maintain the shape of the boots
Using a shoe tree will help maintain the shape of the boots. A shoe tree is specifically made to fit the shape of your boot and keeps the boot stabilized and in its form, making them last longer even with regular wear and tear. To choose the right size shoe tree, make sure that it fits snugly against both sides of your boot; you want it to fit snugly so that it can react to temperature changes and dry moisture as needed while also holding onto the natural shape of your boots.
For leather boots, use a wooden-based shoe tree made from cedar or juniper, as this will help absorb any odors that may occur over time, prevent creasing of the leather material when wet, and provide structural support for long-term usage. For suede or nubuck boots and shoes always avoid using any type of metal or paraffin-based products so as not to damage or detract from their look.
Shoe trees may cause small scratches along the surface but with gentle use these scratches should be insignificant. To remove them gently wipe away with a damp cloth before gently polishing with a fabric conditioner.
If you are looking for general maintenance between shoes trees, here are some tips:
Don't forget to brush after wearing – lint brushes are perfect for this purpose.
To keep shoes dust free and well ventilated between wears use newspaper stuffed inside each boot instead of leaving open in an area around contact sources like street dirt.
Finally, polish periodically with appropriate color waxes preserving dept eh colors/ materials chosen.
Frequently Asked Questions
Q: What size Red Wing Boots should I get?
A: To find the correct size, measure your foot length and width and use the Red Wing Shoe Company's sizing chart to find the best fit.
Q: How do I measure my foot for Red Wing Boots?
A: To measure your foot for Red Wing Boots, use a ruler or measuring tape to record the length and width of your foot from the heel to the tip of your longest toe.
Q: How often should I replace my Red Wing Boots?
A: It is recommended to replace your Red Wing Boots every 6-12 months depending on the amount of wear and tear.